Posted:
September 16th, 2010 |
Author:
Devon
|
Filed under:
Calabria
,
Italy
,
Meals
,
Unexpected Adventure
,
Work
|
4 Comments »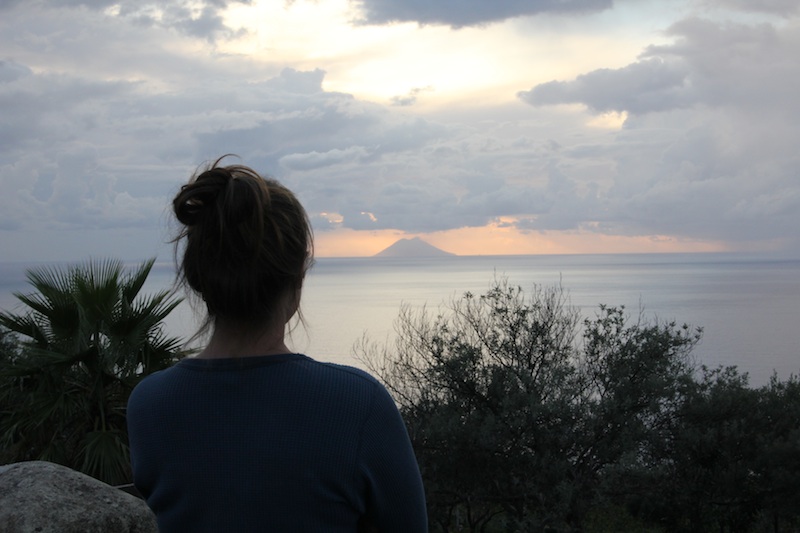 Saturday morning we were up early-ish to feed the chickens the slops leftover from dinner last night in the restaurant. We haul two five-gallon buckets up the hill to them, then dump this old food into the center of their pen. The chickens flock to this stinky pile, pecking at it, walking over it, having a grand time. They seem to prefer rotten tomatoes and old bread, but dislike eggplant. In return, we collect from them five eggs.
It was raining, so Halbe and I wore our waterproof jackets. We discovered a more appropriate name would be "waterproof for two hours" jackets. From the expansive garden we harvested tomatoes, carrots, and chard. All were used in the dinner that evening for the 40 or so guests and workers eating.
Our work done, we retreated indoors. We wrote a few entries for the site, read. I finished a silly mystery novel, and Halbe practiced piano. We read a few Roald Dahl kids poems to each other. We had lunch with Grasiella and Sylvia, two of the women who work in the restaurant. Grasiella is Italian and speaks zero English. We learn a lot in attempting to speak with her. Sylvia is from Argentina, so she and Halbe talk in Spanish, while Grasiella and I watch, then Sylvia translates into Italian for Grasiella, and Halbe into English for me.
We head out to the field again — I harvested the wrong kind of tomatoes in the morning. I'm pointed to the correct row, and begin the second tomato harvest for the day. They need a particular kind to prepare their tomato sauce (salsa pomodoro).
Dinner was pasta with a thick pesto sauce. Secondi (second course) was fuori di zucchini (fried zucchini flowers) and a green patty of some sort with cheese in it.
Desert was hands down the best gelato I've had — Italy or anywhere. It was nocciola (hazelnut) with a touch of chocolate. Smooth as taffy, creamy, not over-sweet, packed with flavor but not overpowering.
The gelato maker is an industrial machine that would look at home in a wood shop classroom. Like in ice cream preparation, the ingredients are cooled while being turned, forming the pliable, frozen material. With gelato, there is the additional step of continually stirring and crushing the material, creating that exceptionally smooth texture. Here I am, eyes half-shut in ecstasy, as I sample the gelato straight from the solid brass and steel blade/beater used to do this crushing and mixing. I'm thinking of getting one for the home. Seriously.
After eating our meal, we help clean up the kitchen, then head for bed.
Sunday began in the same way: chickens, light chores, weed pulling. It's Sunday, the traditional day off. We hadn't received any direction from the hosts, who were out of town, so we took it easy. Halbe packed a bag for the beach, and our host's brother drove us down to the beach in Zambrone called Marinella (little marina?). Gorgeous beach, and just a handful of people. We swam in the Mediterranean and continued the futile efforts to tan our pasty torsos and thighs.
The return trip to the house was difficult. Probably due to some communication breakdown, we understood the instructions from our host as "take the first left to get home." So we took the first left. We began the long hike up from the sea to the hilltop. Forty-five minutes and several kilometers pass. We don't recognize anything. We're dripping with sweat, hungry, and only a packet of Saltines between us. It's clear we're lost. So what do we do? We keep going. Who knows, right? Maybe it'll work out.
Eventually we get to a vista where we spot, in the distance and on a different hill, a radio tower that we think may be same radio tower we vaguely remember from the night drive when we first arrived here, a week ago. We ask directions but, unfortunately, everyone is speaking Italian. The Saltines are gone now. We decide to walk back down the hill to the beach and try to find a road that can take us up the radio tower hill. We find the road (fourth left, for the record), and it's steeper than the last. The sun pounds down. The refreshing beach and sea are a distant memory (did I mention we're still in our swimsuits?). We slog up this hill over the next hour. And, eventually, we make it back, take cold showers, and collapse into our beds.
But the day wasn't over.
A gorgeous crescent moon poked over the horizon, and a bright planet floated nearby. It was dinner time, and the staff were taking the day off (Sunday). It was just Johnny, the host, to cook for the 10 guests, and Halbe and myself to help him. I loved it. I'm living my dream of working in a restaurant. Johnny is a cheerful guy with decent English. We practiced our limited Italian and shared stories as we plated and served the meal (faije pasta with creamy pomodoro, salad with sesame dressing, thin-sliced veal with an incredible brown sauce, pastries for desert). We drank Birra Moretti (Italian beer) as we worked, and the laughs were plentiful. Johnny particularly liked our story of the six men trying to help us read a bus schedule in Tuscany.
Around 10, as the last guest drowsily pushed away from the dinner table, we finished cleaning and bid "buono notte" to the kitchen. Bodies exhausted, minds baked, and skin humming red with sun kisses, we tumbled into bed. We were asleep in minutes.
---